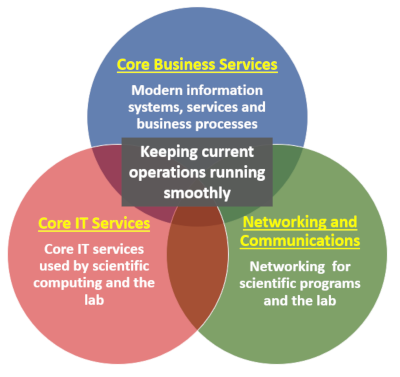 The Information Technology Division (ITD) is the IT arm of the laboratory. The primary goals of ITD are to:
Keep current operations running smoothly
Provide the network infrastructure and services for scientific programs and the laboratory
Sustain and improve core IT services used by the Computational Science and AI Directorate and the laboratory
Modernize Fermilab's information systems and services and work to improve business processes
ITD is comprised of the following areas:
Networking & Communication including a site-wide campus network; high-speed data center networks; a high-speed wide-area network; communication services such as VoIP, cellular and analog phone services, voicemail and pagers; radio equipment and radio networks; and web conferencing support.
Core IT Services including file servers for Windows, Mac and Linux; physical and virtual server hosting and operating system support; central website hosting; database hosting for business and scientific services; system backup and restoration; centrally managed desktop, laptop and mobile devices; central authentication systems; email; calendaring; and Service Desk and managed IT services.
Core Business Services including financial, human resource, environment, health and safety and facilities applications; engineering; a library; publications and records management; and content management systems.
Computing by the Numbers – Statistics about the Information Technology Division